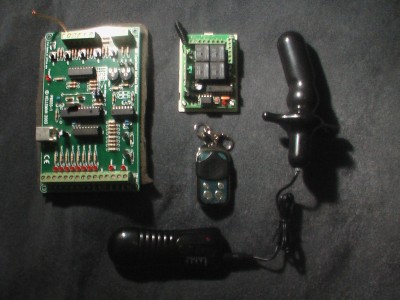 Yes they're all the bits from which I'm hoping to build my website-controlled, rf-triggered buttplug…. the first prototype of the "pleasure pain devices" I've been on about to a few people recently.
Just finished admin stuff so gonna break out the screwdrivers and see about some hardware hacking…
It should go: website button -> some software -> usb interface -> radio-keyfob -> keyfob receiver -> buttplug
whereby the buttplug could be replaced with whatever – tens machine, electroshock device, solenoid-padlocks… the mind boggles. One usb board should be able to run about 4 devices over radio via the keyfob or maybe 7 if wired in directly.
Starting the first tests of hacking it together tonight. Watch this space 😉