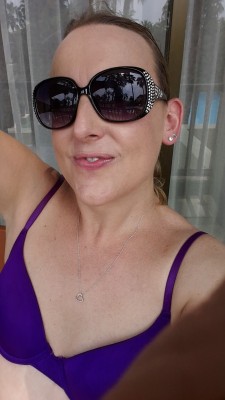 ok well yesterday was actually a rather special day – I had a clinic appointment which turned out to be my last one. I got the all-clear from Dr Suporn, my farewell stash of meds, photos of the operation and after lots of hugs all round made my way back to the Tide Resort and celebrated in the sun on the balcony with a bottle of bubbly I'd been saving for the occasion. The only thing missing was my fiancée who I'd have preferred to share it with.
So that's it – SRS is done, over, complete, finished \o/ *finally*. The culmination of 3 years of therapists, doctors, gender clinics, more gender clinics, prodding and poking by all and sundry and a LOT of £££….it's over. Now I just need to finish healing and let things settle down.
I'm at the Tide Resort for another few days and then next monday I head to Bangkok to see @Miss_petite – another Domme I know from twitter and fellow Adultwork-er, then it's back to Blightly on Halloween. Strangely I miss the cold and wet, but more than anything I miss my fiancée, my family, the freedom to travel without taxis, drinking water, things that (mostly) work, text I can actually read and people who speak english. It would also be nice to not be head and shoulders taller than pretty much everyone I meet lol.
So that's the plan…I'm gonna chill in the sun for a few more days here and then looking forward to some fun in Bangkok!
Once I'm home I'm going to be taking an additional month to rest and heal (i.e. no camming sadly) since orgasming puts a lot of strain on those parts, especially when you do it as often as I do so whilst it sucks for camming (and income) I think the extra healing time is a prudent move. I'm looking forward to being back on cam and doing face to face sessions again in December…so hopefully see you all then – December promises to be a rather fun month!!
MNxx