I get asked quite regularly by subs, slaves and sissies whether I can humiliate/use them on cam in front of a chatroom full of people, and so far it's never been possible to do (that I'm aware of).
FluxCam changes that :D.
Essentially Fluxcam is two live video feeds and a chatroom. One video for the Domme and one for the subs, or for another Domme, or whatever. Part of the idea is that it's flexible so we can do whatever type of show we want to do at the time.
What makes Fluxcam different from other cam sites is that whereas most cam sites will let the host cam-2-cam with a client on a one-on-one basis, with FluxCam by default both feeds are visible by the whole chatroom. Effectively subs perform on cam for the room and the people in the room may even get a degree of say in how the session develops which has already proven to be a lot of fun, and is how we arrive at situations like this…

This could be you!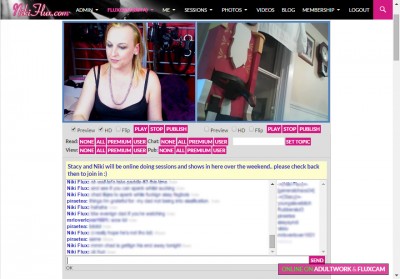 The chatroom has so far been open to both free and premium members, though we do have some Premium-member-only shows too, as well as guest Dommes and subs. Premium members also get access to the past shows so if you happened to be asleep or working at the time we had some awesome session, you don't miss out.
It's still very new indeed and we're still testing out how it works best so it's likely to change/evolve quite a bit for the moment while I work on it, but so far it's working very well and lends itself to the follow types of activity:
– Humiliation
– (consensual) Blackmail
– Small Penis Humiliation (SPH)
– Jerk Off Instructions (JOI)
– CBT
– Cum Eating Intructions (CEI)
– Orgasm Control
– Chastity
– Anal Training
– Cocksucking Lessons
– Sissification
– Voyeur Cam
– Slave Tasks in Public
– Mobile BroadcastingAnd many, many more…. 😉
FluxCam is shared between this site and StacySadistic.com and we basically run the show between us. The chatroom is shared in that members from either site can see the same feeds etc, which also makes for a nice mix of members and makes sure the room stays busy.
We're currently looking into expanding the number of fixed cameras we have in play to offer multiple viewpoints and we also have the ability to broadcast from our phones for extreme closeups etc (works surprisingly well!).
As far as I'm aware this setup is not currently available anywhere else and since it's kinda niche I'm hoping it'll stay that way. So if you want to be abused, humiliated and degraded in front of a room full of viewers, then FluxCam is the only place to do it!
MNx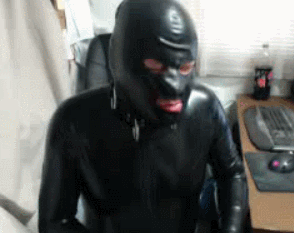 Rubberslut getting his balls zapped with an e-stim unit
You don't seem to be a member yet, you need to become a member to join in on FluxCam (free membership is fine). Maybe this is a good time to
SIGN UP AND GO TO FLUXCAM
To see what's happening on FluxCam please follow the #fluxcam hashtag