As you may or may not know, I shoot much of my own content and have been told (and would like to think) I've developed a bit of a "style" based on how I shoot and process images. Recently I've had a few people ask me to shoot content for them – be they other models, clients who want photos of themselves in particular settings or whatever. So given the interest and how I enjoy doing it, I figured it might be an idea to add a page giving details of what I'm able to offer in that context.
Whilst I prefer to photograph women (whether TS or born female), preferably without many clothes on, I'm relatively open-minded to other subjects. I enjoy trying to capture beauty..wherever that resides.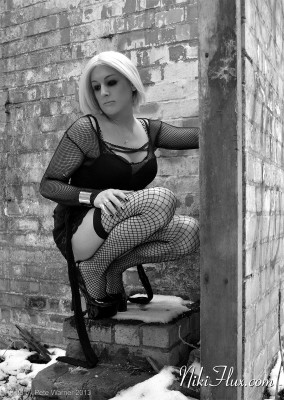 Retouching example – all exposed skin in this image needed work due to the freezing cold (note the snow), but it would have been a shame to waste such an otherwise lovely image.
What I mean by that is that whilst personally I don't usually find guys attractive in the same way as I do women, I would certainly try to apply the same principles of good lighting, flattering camera angles etc and would actually see it as a challenge to create great, sexy pics of guys too if that's what you're after.
I'm interested in wierd and unusual fetishes so again even if it's something which doesn't directly "float my boat", I'd be open to the challenge of creating beautiful images based around a given fetish or whatever.
If you want me to shoot you playing with one or more partners that's also fine. Domme and sub, vanilla couple or full-on gangbang or whatever, as long as it's all consenting adults I'm quite flexible.
I think probably the only thing is to keep it sexy or fetish-based. I'm not really interested in non-erotic/adult content.
I can do stills or video or a mix of both. I generally prefer stills but would be open to video ideas too, though there's often an inordinate amount of work involved with video to do it to a standard I'd be happy with, so often it's not really feasible.
Whilst I like to keep images as original as possible, sometimes that's just not doable…like when you happen to be shooting outdoors and there's snow on the ground, and the cold makes the model's skin go blue so her makeup doesn't match the rest of her skin anymore since it doesn't change with her skin. In situations like that you can be as well-prepared as you like but the images are going to need some work afterwards.
Fortunately I do my own retouching. I started back when it was done with airbrushes on actual prints, long before photoshop, and have stayed involved with image editing and processing as things have developed.
Rates, copyright/licensing
My rate will depend somewhat on what's involved. This is a bit of a "how long is a piece of string" type thing but I've tried to give a couple of popular options, we can work from there.
If the content is just for you, and you want to retain all rights on it (i.e. you get the copyright and can do what you like with it, publish it, don't publish it, and I can't use it at all) then expect a rate of around £350 for a half-day shoot (around 4 hours). That would include retouching of the best images (up to about a dozen).
If it's content I can (and want to) use myself for my photography portfolio and/or website and add value to both of those, whereby we have a licensing agreement that we can BOTH use the content as we see fit, then I can be a little more flexible. In that case expect a rate of around £200 for an afternoon's shoot (around 4 hours). That would also include retouching of the best images (up to about a dozen).
For locations within about an hour's drive from me no travel expenses are needed but further afield I'll need to bill for fuel too. I wouldn't generally agree to a longer shoot as I tend to be a night-owl anyway and have to actually get TO the location as well as actually do the shoot, then get home again after…can work out a long day, so unless you're super-flush and want to cover my overnight expenses too, there is no "full-day" option.
Availability
With a little notice most days are fine, just no mornings. Afternoons working into the night no problem but nothing where I need to be there before midday.
Models!
I get a number of enquiries from guys who want to "do a shoot". You're welcome to book me as a photographer or model (at normal rate), but that also doesn't include me getting intimate with you. Generally I don't need male models for shoots I'm putting on myself (as you can see by the total lack of guys in my photos). The one exception to that might be for *serious* pain-sluts (think proper cuts and bruises, needles, blood).
What this is not!
Sorry to have to spell it out but I get a surprising number of (photographers even) who basically want a play session but dress it up as a "photo shoot opportunity" because they're too cheap or flaky to just book a session. That's not gonna happen.
So what that means is I won't be getting interactive in these shoots…you won't be fucking me and I won't be fucking you. In this situation I'm the photographer or model, nothing more. Try to grope the photographer and you're likely to get a poke in the eye or a lot worse (remember I enjoy hurting people and am good at it!).
"but you do photo shoots with people"… yes I do, shoots that *I* set up with people I choose carefully based on a number of factors, including what fetish/interests they're involved with which match my own. This is not that.
If you are interested in photographic services please get in touch via the contact form.