I've been meaning to write a review of this for ages now, but I also wanted to do so once I'd seen it in service for a decent amount of time.
It's a pretty well documented fact that I'm heavy on my kit…whether it's cars, cameras, computers or my vibrators they ALL have a hard life. My cameras spend hours/days in hot & sweaty environments and end up covered in lube during shoots, my cars get driven relentlessly hard, my computers spend much of their lives working flat out too…and that's no different for my vibrators.
Starting many years ago, not long after my gf first introduced me to her "rabbit vibrator" and anal play (this was pre transition), we quickly amassed an ever growing box of busted vibes of all shapes and sizes.
Many of the deceased got revived somehow or turned into frankenstien hybrid concoctions – battery compartments were replaced with larger versions or mains transformers so they could work faster for longer, some got bigger motors, different eccentric weights etc. I have "hacked" and broken a LOT of vibrators.
So when I first started domming professionally, upon getting my first real booking i thought time to get myself a *proper* vibrator…I'd heard of Hitachis but they were apparently hard to get hold of (or the right ones anyway, not fakes) and then in one of our local sex shops I laid eyes on the (original, plastic) Doxy Massager.  wow.
The sales-person extolled its virtues and shortly afterwards I was about £90 lighter but had an awesome new vibe…this was a proper bit of kit and I had high hopes.
So yes it was great – for approximately 3 months, at which point it developed a crack in the "shoulder" and the neck started to give way from the constant sideways pressure (which was what worked for me).
So I temporarily repaired it with duct-tape and got in touch with doxy to see if this was something covered by the warranty. After all this thing had cost a fair bit and I expected a £90 vibe to last longer than 3 months, whether I'm hard on kit or not.
Doxy support were awesome and I've got to know them quite well in the mean time…they said to send it back and they'd send me out a replacement. Said, done. wicked.
3 months later…exact same thing. This time they didn't bother have me send the old one back and just sent me a replacement.
To their credit this game continued for a year or so – I've had every different variant of the doxy over the time I've been using them, each had subtle changes/improvements (apart from the one which would forget the last setting it was on!)…it seemed to almost be a point of comedy by the end "yes it's me again… any chance of a replacement please?"

a couple of the vaguely surviving earlier models
However, they just kept sending me replacements – best support ever! By this time I was in pretty regular contact with Doxy and we'd had a few discussions about why the faults might be happening and design changes which might help prevent the issue recurring. I was assured they were working on it.
Then one day out of the blue I got a DM on twitter from Doxy asking if i was still at the same address, they had a little something I might like.
Enter the Doxy Diecast.
Fuck Yes.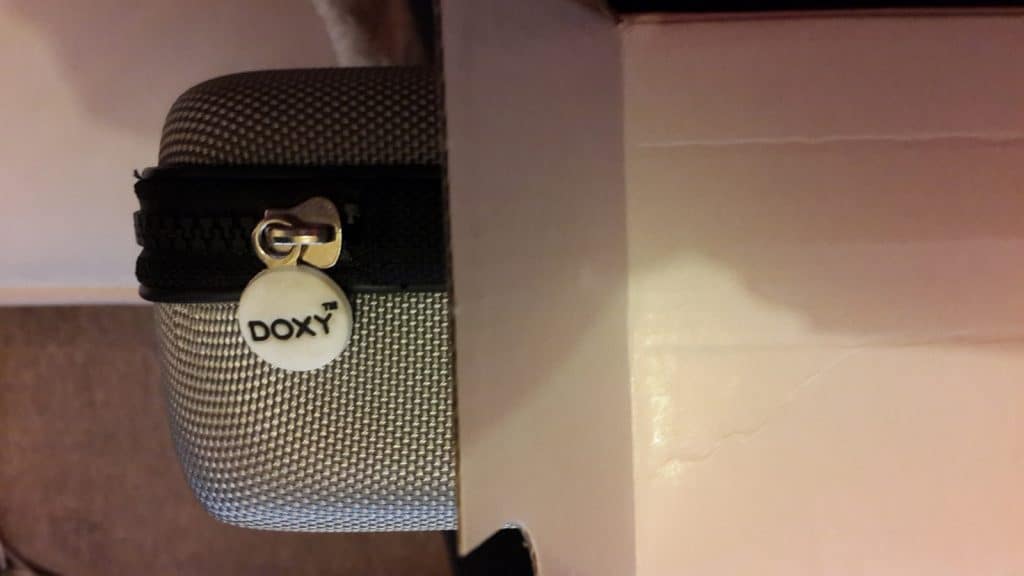 already at this point when you get a vibrator in a beautiful case like this you know it's gonna be something special…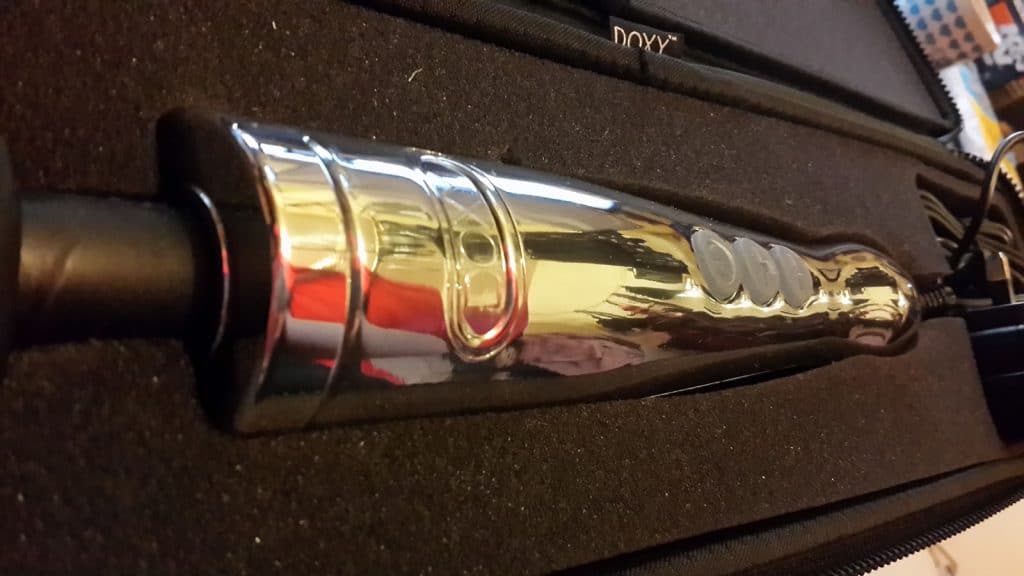 and behold [insert choirs of angels noises]. Fucking gorgeous to behold. Take a moment to let it sink in. This thing is a work of art.
I picked it up and right away it felt like a winner. It was a bit heavier than the old ones but it felt solid. I like the extra weight and I suspect it helps make the head vibrate a little more intensely. The head weights had been re-worked a while back in the later versions of the plastic Doxy, but this felt different again.
Ok so it looked like they're probably solved the shoulder-cracking issue but how about the neck?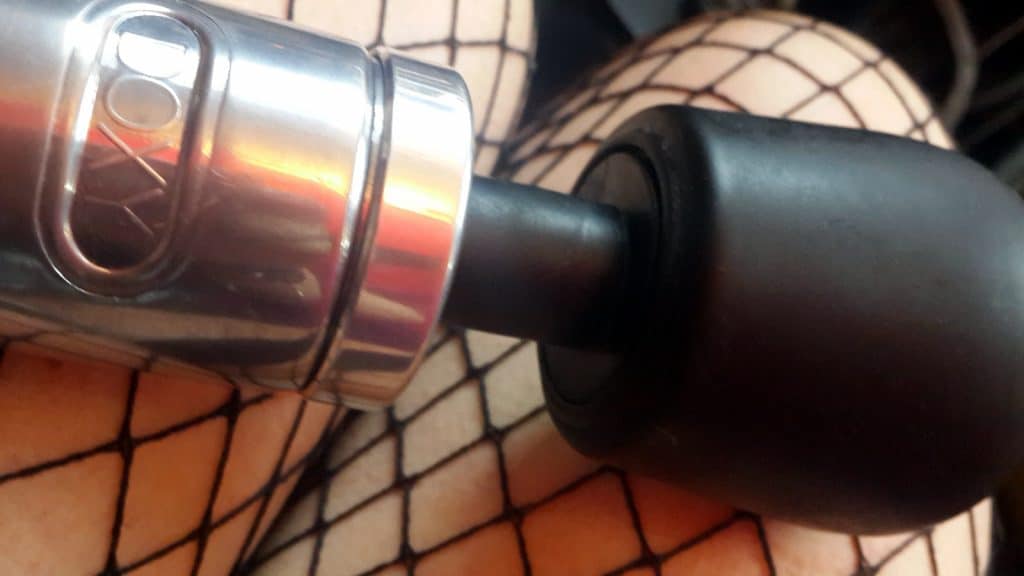 Well, upon further conversations with Doxy support I was told that the neck had been totally redesigned. They'd just not been able to find a neck produced by anyone else which was up to the job so they'd had to design and produce one from scratch themselves. It was more expensive but apparently seemed like the only option by that point.
I guess only time would tell…
Now if you've read other reviews of the Doxy Diecast you might have heard various grumbles about the vibrations being too strong, or not strong enough or whatever nonsense. I'm afraid I have to call bullshit there.
Not only does the heavier body seem to intensify the vibrations from the head (spring weight vs unsprung weight ratio), they've extended the range of vibrations over the old models so that it goes smoothly from very slow right the way up to "you're-at-the-end-of-a-3-day-session-but-dammit-there's-one-more-cum-left-in-there-and-i'm-not-quitting-till-i-find-it" speed.
Whilst I like the intensity of the high speeds and make no mistake they definitely deliver,  for me the real winner is the slower/slowest speed which is not what I expected. I don't think it would really work without the heavier body but omg. It's perfect to just clamp between your legs and lie on your side and let it float you on a blissfully deep vibration which doesn't quite push you "over the edge", but definitely keeps you just about on "the start of the path"…like being able to stay at 95% close to orgasming, which is something I love to do, sometimes for hours (occasionally even days) on end.
That brings me to duty cycle…I know that's a conversation normally reserved for discussion of an angle-grinder or other workshop equipment but for the heavy vibe user it's an issue.
Whatever, again, perhaps because of the polished aluminium body and how well ali conducts heat, whilst it gets quite warm with continual use, i've never felt it get dangerously hot…even when it's been running non-stop for a couple of hours, which it does quite frequently.
My cam studio can get really hot at times too – especially in the summer with the lights and all the computers going I can easily see prolonged temps up to 35 degrees Celsius, and the Doxy diecast has survived.
Obviously it's prudent to give it a break now and then when it gets warm but I don't think I've ever had to really interrupt what I'm doing to let it cool down, whether that's in a client-session or a solo adventure. That's also not a claim I can make for pretty much any other vibe I've owned.
The buttons glow blue which looks very cool and the speed control is sorta "analogue"/smooth rather than "stepped" which can make getting exactly the right speed a little tricky at times but  on the other hand you're not limited to preset speeds. It's not something I've found to be an issue.
I got my Doxy Diecast roughly in December 2015 and it's now March 2017. The neck is still intact, there's no cracks or other damage and it still works exactly like it should. That right there is all you really need to know. It's survived me.
Whilst the gorgeous anodized silver finish is somewhat prone to collecting lubey fingerprints and marks, when I actually bother to shine it up it still looks fantastic.
Obviously the shiny anodized silver finish looks fabulous on film too so it's perfect for photo-shoots. Having a beautifully arty black-and-white scene set up and then having soem gaudy plastic wand just isn't quite the same. This not only does the job but looks the part too. I'm sure you've seen them used in many porn/femdom clips…the Diecast seemed to instantly become the porn equivalent of the Technics SL-1210 turntable for DJs.
Only recently, after 15 months of intensive use in private camshows a few days a week, client dungeon sessions, photo-shoots and whatever else am I starting to see some slight deterioration.
The ring which secures the two halves of the casing together has started to work its way loose. I dare say that's something I'll be able to fix myself though rather than having to get a replacement.
So you've heard the (very) good…what about the bad?
Well, as good as it is it's not *perfect*…but really my only "gripes" with it could barely be even called that, but they're as follows (and they might have already been fixed in later revisions):
The only issues I really have are with the plastic "tail" which guides the cable out of the end. Now that the whole structure is so solid and tight – the plastic tail which secures the cable vibrates at certain frequencies which can be distracting, especially when the rest of the machine is just *purrrrring* so beautifully.
This could be fixed by adding a little "o"-ring or 2mm slice of latex hose to add a little tension to the plastic cable tail but given that would mean unsoldering the cable it's not something I've undertaken yet since the machine hasn't wanted to come apart by itself and I wasn't going to start encouraging it to. I also can't bring myself to ruin the looks of it by using an elastic band (which wouldn't require disconnecting) so for the moment mine just rattles at some speeds.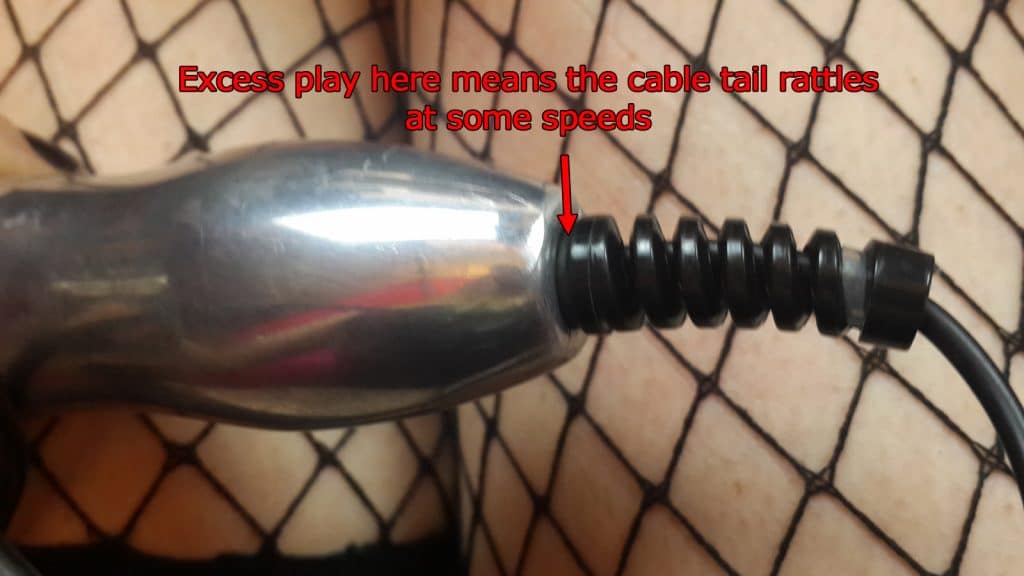 The other issue is again to do with the plastic cable tail. The tail is a somewhat wider diameter than the cable itself so at certain speeds the cable vibrates against the tail, similarly distracting to the previously mentioned issue.
This however was an easy fix – just get a short bit of latex tubing  about a centimetre long, cut a slice in it (the latex tubing) lengthways with a pair of scissors and gently squeeze it inside the cable tail so that it snugly holds the cable in place centrally inside the tail. 100% fix. I did this on day one and it's been there ever since.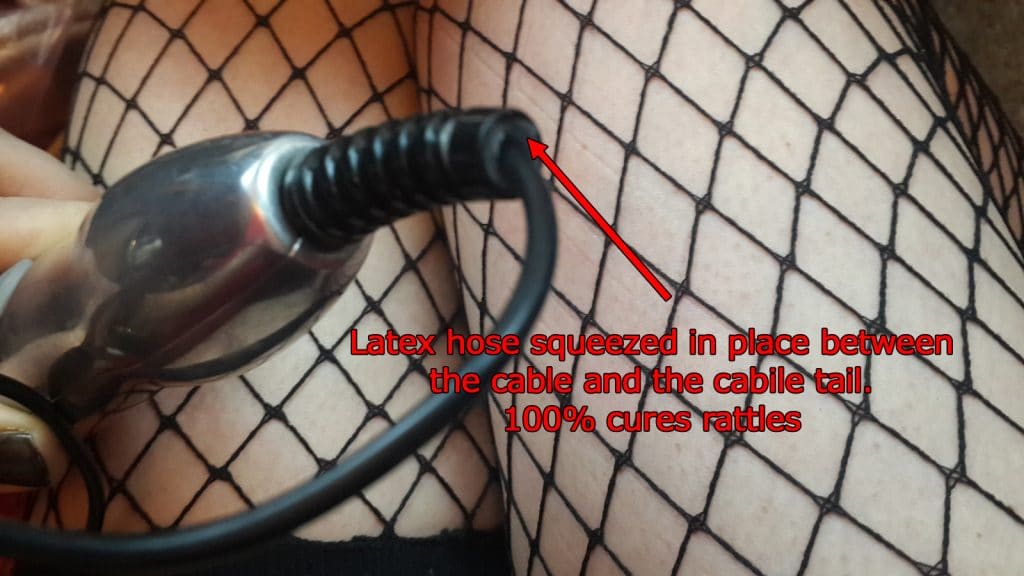 Those are really the only "complaints" I have of it and I suspect that's somethign which has been addressed in subsequent versions…I wouldn't know because I've not yet needed a warranty replacement yet, which means it's survived over 15 months with me…..and that, boys and girls, is something no other vibrator has *ever* managed so in my humble opinion the Doxy diecast is about as good as it gets.
Doxy were very kind and actually sent me my diecast for free by just before it started appearing for sale but tbh even if they hadn't done so I'd have bought one despite the £150 pricetag. Totally worth it.
Recently I've also started to place a lot more value on the support offered by companies when their products break or when something goes wrong. A nice product is great but if I can't get hold of anyone if it develops a problem then it's no good to me.
Whilst I don't see the Diecast breaking anytime soon, it's nice to have seen from the past just how good Doxy's after-sales support has been. I got prompt responses by email, numerous prompt replacements and eventually was in regular contact with them via Twitter. The level of support alone should inspire confidence when buying from them, regardless which product you get.
Gentlemen – if you're reading this and want to ingratiate yourself with the Lady in your life, buy her one of these Doxy Diecasts. Don't cheap out and get the plastic one (if they still sell it), get the diecast.
Short of diamonds there's not that many ways to score quite *that* many wicked brownie points with your girl in one sitting for so little cost.
You could even go one further and learn to use it on her, or perhaps try placing it between you and her (i.e. on her clit) during sex and she will likely be left a dribbling mess, and there's a very good chance you'll enjoy simultaneous orgasms.
If you had to ask whether she came or not, she's being polite and probably didn't. When you take the time to do the job right, you won't need to ask. Get the right tools and that all gets a lot easier 😉
Disclosure:
Whilst I got my Doxy Diecast for free as an umpteenth replacement for my original plastic Doxy, I'm not affiliated with Doxy in any way, and they're not paying me to say nice things about it. These are my own opinions based on my own experiences. Your mileage may vary. I am a fan of their products and after-care though.
On a side note:
If you're a sex-toy manufacturer and think your device has what it takes to compete I'd be very interested to see if there's anything which can top the Diecast, but make sure you bring your A-game and don't mind it being tested to destruction 😉